Dreaming in Cantera / Sueños en Cantera Poems by Bonnie Wolkenstein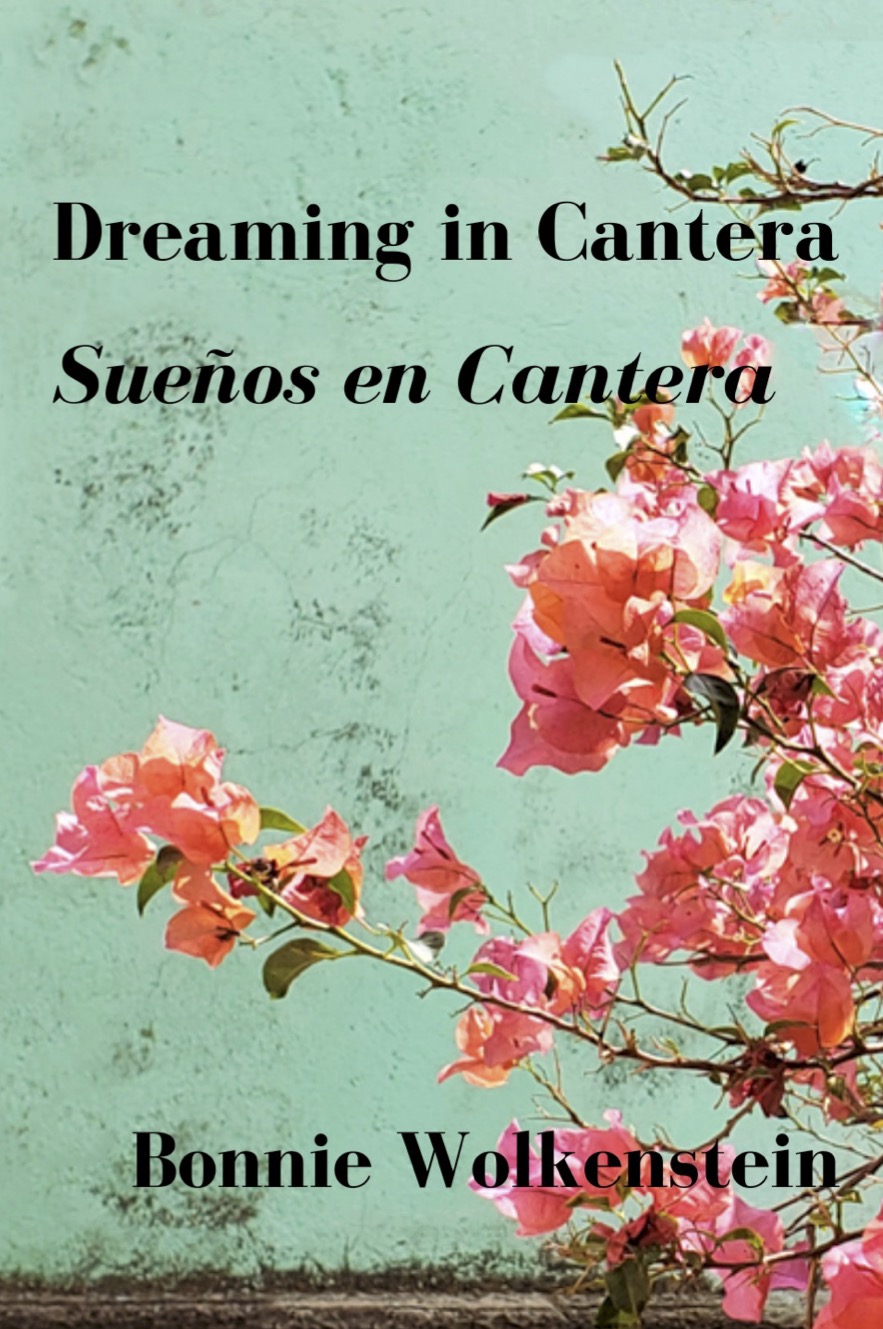 In 2019, the author set out to journey - abroad and within. Although she planned to experience several countries, the pandemic created a unique opportunity to deepen her knowledge and exploration within the limits of one place, one person, and the overlap between them. The place was Guanajuato, Mexico, a 500-year old city with secrets and success, conquests and divides, myths, legends, the ghosts of past inhabitants and the bustling energy of those who currently call it their home, all set against a blaze of color, winding stone alleyways, and an arid semidesert surrounded by low mountains. The result is this collection of poems, which mirror the author's exploration of the unknown and the universal, the cyclical flow of any journey, from leaving, to what we seek and what we find, our return home, and if we're fortunate enough, our preparation for the next frontier, inner or geographical. Some poems came first in English; others originated in Spanish. Every poem has been translated, creating a rich melding of language and place, offering the reader the chance to feel what it is like to dwell in a new self in a new land, to remember past explorations, and to spark the next longed-for journey.
Sample Poems by Bonnie Wolkenstein
"There are times when the 'absence is more brutal than love's sharp edges'. Bonnie Wolkenstein takes us on a journey across 'Dreaming in Cantera', where we have to pay attention to the landscape, the sounds, colors, smells, dangers and pleasures of being in a place where everything has a name, meaning and purpose. The longing is palpable and present like the wind. The line 'a balloon slips from the child's grasp' is a deep metaphor for what we lost. I take that at heart, for I can relate to it in many ways. Guanajuato City is exquisitely depicted in almost all the pages, the uphill stone streets, the bohemian air at night, the early rooster call across the rooftops and the thunder and lightning during the rainy season. The poems appear neatly stacked like cantera bricks, staggered in both languages. This book needs to be read in two voices, across desserts, across mountains, across borders, across oceans for 'there is no after that doesn't contain the before', therefore we exist and revere those like cactus flowers, that gave us color and light."- Raúl Sánchez, poet, translator and teacher of bilingual poetry, the 2019-2021 City of Redmond (Washington State) Poet Laureate. A 2014 Jack Straw Writer. Author of When There Were No Borders (2021, Flower Song Press) and All Our Brown-Skinned Angels (2012, MoonPath Press).
"Bonnie Wolkenstein takes us on a grand adventure in this book, written while she was living in Guanajuato, Mexico, in 2019-2020, a sabbatical for which she has shed almost all her belongings and which has transformed her life. The speaker of these poems is drawn to this new world glowing with possibility: 'vibrant murals, boldly colored houses on undulating hills'; contours of baroque churches; scents of hibiscus and nopal fruit; voices speaking and singing in Spanish and indigenous languages; 'the cacophony of church bells, crowing roosters / barking dogs and braying mules'-all the atmospheric surround of local sounds 'altered by my foreign tongue'-and she finds herself drawn to respond by writing her poems in both languages, even as she learns the new language. These are not translations, exactly, but poems truly bilingual, existing in what the poet calls 'the liminal space' between her North American origins and this new cultural environment, in which she is 'dismantling boundaries' within herself between languages and cultures. In these pages, Wolkenstein's speaker is 'the sole wayfarer, pockets filled with whimsy, wisps / of song'; but she is aware as well of 'what the silence says' in the sad histories of conquest, exploitation and oppression from which this vibrant culture has emerged. With her, and in these poems, we look forward to dreaming in Cantera."- Carolyne Wright, author of Masquerade and This Dream the World: New & Selected Poems (both from Lost Horse Press)
"Dreaming in Cantera/Sueños en Cantera, a passionate, beautifully observed bilingual collection of prose poems, lyrics and essays follows writer Bonnie Wolkenstein's speaker from disappointing affair to intense love for the Mexican landscape and people. Poem follows essay follows poem in a meandering yet compelling way, until, 'the spell broken' the speaker sings 'to an unnamed presence…'"- Lee Gould, editor of the bilingual poetry journal La Presa.
"Dreaming in Cantera/Sueños en Cantera is an exquisite journey through loss of youth, love, and language. Bonnie Wolkenstein weaves words into a net pulling you in. Her haunting cadence cracks open the quarry stone to reveal the past and present."-Nathan Feuerberg, San Miguel Writers' Conference