Immigrant Songs, Poems by Kareem Tayyar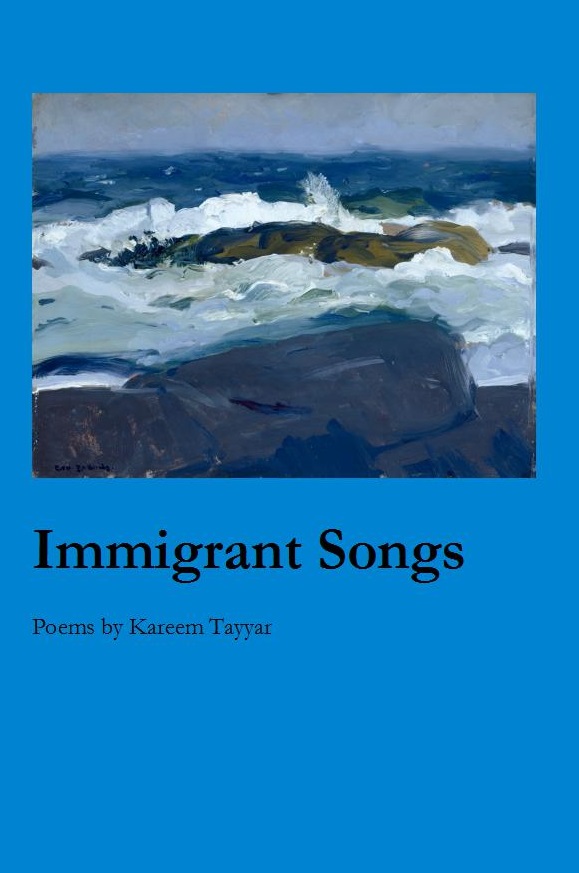 As lyrical as it is accessible, Immigrant Songs is the work of a poet invested in bridging past and present, dream and reality, spiritual and secular. Tayyar's work has always been defined by a celebration of the world around him, and this collection continues in that tradition.
"In Immigrant Songs, Kareem Tayyar gives us vibrantly imaginative poems that travel from Beirut to Belfast, Tehran to San Francisco, Damascus to New Orleans and back. At their heart is the story of an unbreakable bond between father and son, the honoring of 'Noahs in rundown Chevrolets,' and the bittersweet embrace of American life. In his sixth full-length book of poetry, Kareem Tayyar, a gifted poet, writes: 'I See Odysseus Everywhere,' and after exploring and savoring these remarkable poems, perhaps you will too."-Joan Bauer
"Reading Kareem Tayyar you are always aware of being in the presence of an electric, first-rate mind, a poet with a real voice-as if the author is there with you in person, guiding you through his sun-drenched world of bumper stickers and surfers, movie stars and sports heroes, making it all magical and, by seeing it through the humanity of its people, and the refraction of his love, making it real."-Edward Field
Kareem Tayyar's collections of poetry include, Magic Carpet Poems (Tebot Bach), Postmark Atlantis (Level 4 Press), and Scenes From A Good Life (Tebot Bach). His novel, In the Footsteps of the Silver King (Spout Hill Press), was released in 2012. A Professor of English at Golden West College, he holds a Ph.D. in American Literature and Poetry from U.C. Riverside. He is a recipient of a 2019 Wurlitzer Fellowship in Poetry.
ISBN: 978-1625493019, 102 pages