Justice Freedom Herbs, Poems by Margaret Rozga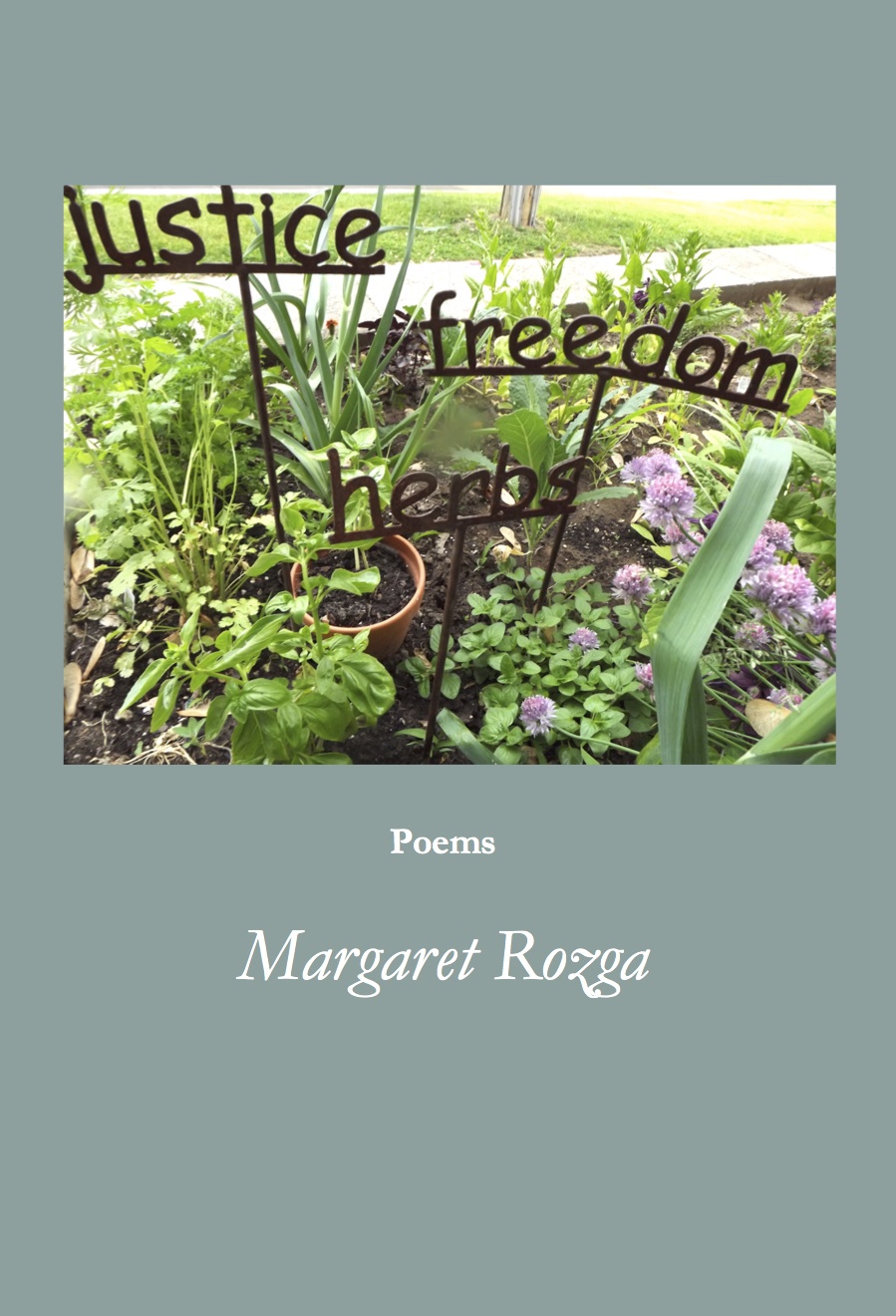 Justice Freedom Herbs is a book of activist poems written in garden metaphors. It is also a book of garden poems that suggest social justice themes. Sometimes the garden, its herbs and other produce, are foregrounded; sometimes civil rights issues and experiences take that primary role. Throughout the volume, the two concerns are closely linked, and each becomes a way of talking about the other. Both require nurturing, both sometimes disappoint and frustrate, both are sources of gratification, growth, and healing. The mostly free verse poems in this book conjure up family, the poet's personal past, and larger issues of history, all within the framework of one woman's close and empathetic skill of observation.
Sample Poems by Margaret Rozga
"Justice Freedom Herbs is a powerful meditation on the daily acts of inhabiting a do-right existence in a sometimes troubled world. The earth, the heart, and history are wholly present in these poems and this poet has a woman's sacred, keeping memory."--Honoree Fanonne Jeffers
"Margaret Rozga's words alight - as a monarch might - on the edge of your spirit. They linger there as if you read them in passing, maybe in a volume on a shelf in a cabin overlooking a river, and come to you quietly for you to savor later. A beautiful work for justice and beauty - great action and the small work of tending leaves."--Andi Cumbo Floyd
"In Justice Freedom Herbs, by poet and activist Margaret Rozga, everything grows, everything's in bloom--even hardship--that perhaps most of all because she has witnessed the difficult lessons of contemporary history and of the garden. To plant, to seed, to cultivate--whether it was Voting Rights in Alabama or Worker's Rights in Wisconsin, whether it was rosemary and tomatoes in her garden or the lives of her children, all were occasions for cultivation and for healing the bruised earth. Such work is not easy. But Margaret Rozga has chosen this life commitment of Justice Freedom (and) Herbs and how fortunate we are. As she tells us in Butterfly Song... so much depends on/what tune you are looking for/ what you've done with silence,/what notes you've already begun..." --Cary Waterman
Margaret (Peggy) Rozga is a civil rights activist, poet, playwright, professor emerita, and the author of Though I Haven't Been to Baghdad (Benu Press, 2012) and 200 Nights and One Day (Benu Press, 2009. She served as managing editor of the chapbook anthology Turn Up the Volume: Poems about the States of Wisconsin (Little Bird Press, 2013).
Her essay "Community Inclusive: A Poetics to Move Us Forward" was nominated for a Pushcart Prize and is included in the Cow Feather Press anthology of prose works from Verse Wisconsin. She has been awarded residencies at the Sitka Center for Arts and Ecology and at the Ragdale Foundation and a fellowship at the American Antiquarian Society.
A sought-after poetry workshop facilitator and speaker on social justice issues, Peggy believes both activism and creative writing involve seeing, being aware beyond the obvious, and both involve the dogged determination to get something right.
ISBN-13: 978-1625491152, 92 pages