My Skies of Small Horses, Poems by Cati Porter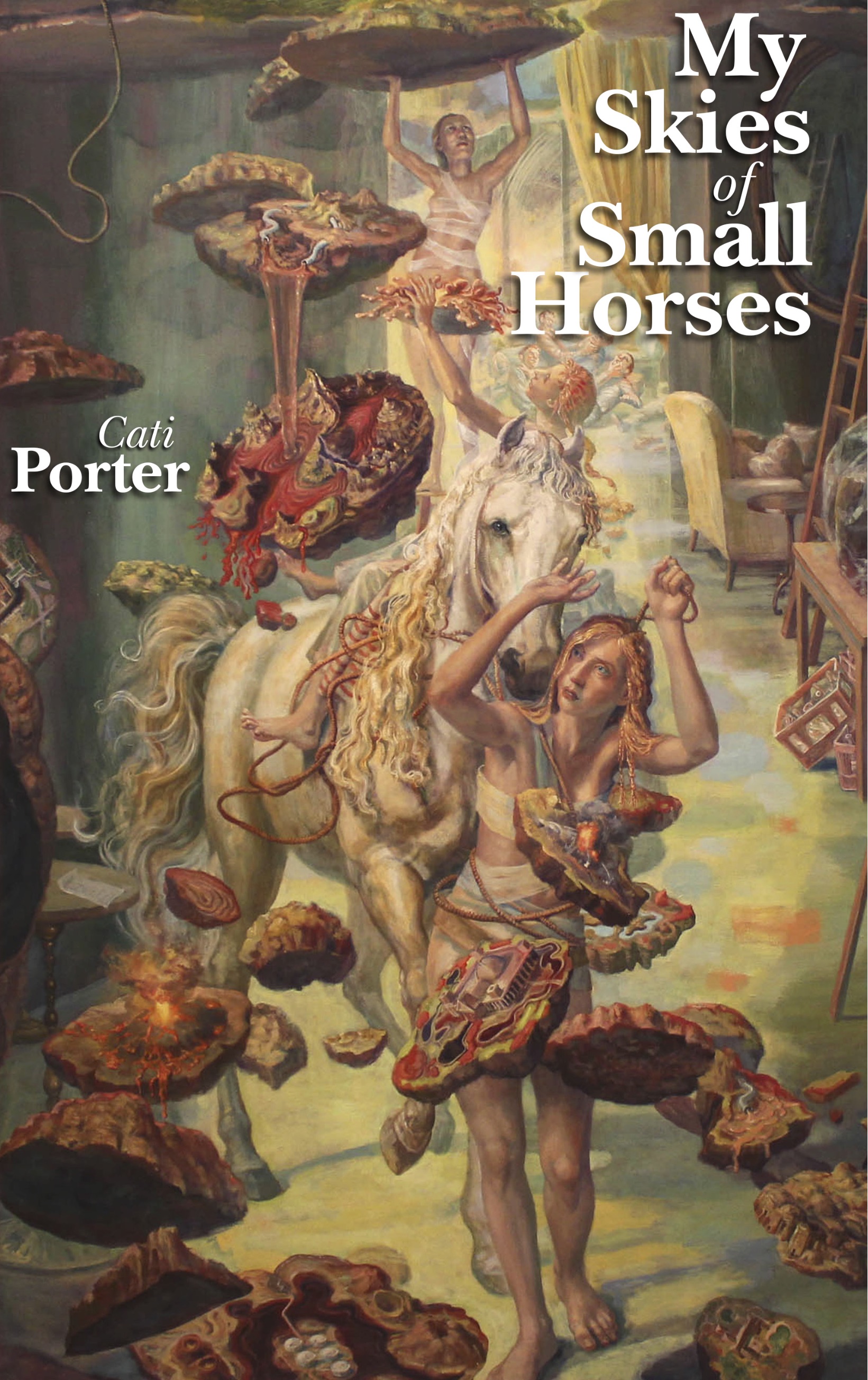 The speakers of these poems are themselves, direct in their voices, searing in their truths. Cati Porter's powerful lines narrate, and embody, hard-won wisdom.
"Cati Porter's My Skies of Small Horses revels in a domestic space that twists and morphs until a dystopic world is revealed. The speaker persists through various trials with a feral power that wreaks havoc on the ordinary. With language that is both daring and dazzling, she lets her survivalist mode kick in and lays claim to this tumultuous realm where, 'beneath the table, beneath the chairs,/small horses take shelter:// I cross the field./I clap my hands./I want to see them run.' A brilliant and vital collection!" -- Molly Bendall
"Cati Porter knows that the domestic sphere is a space full of knives, that a human is a zoo animal, and that a lover is someone who holds your hair while you vomit. With plenty o' nods to Plath and looking-glass Alice, the language in My Skies of Small Horses is like a steep spiral staircase with a velvet bannister, tricky and lush and twisting. It's a poetry of the 'haunted, the unhung and moonsung, the run and the con.'"-- Arielle Greenberg
Cati Porter is a poet, editor, mother, and arts administrator living and working in inland southern California. Previous poetry collections includeSeven Floors Up (Mayapple Press, 2008) and the chapbooks what Desire makes of us (dancing girl press, 2015) andThe Body, Like Bread (Finishing Line Press, 2016). Her work has been anthologized in White Ink (Demeter Press), Letters to the World (Red Hen Press), Women Write Resistance (Blue Hyacinth Press), Bared (Les Femmes Folles Press), and others. Her poem, "Miss Carriage," was the winner of the 2011 poetry competition from So To Speak: A feminist journal of language and art, judged by Arielle Greenberg. She is founder and editor of Poemeleon: A Journal of Poetry and Executive Director of the Inlandia Institute. Find her on the web at www.catiporter.com.
ISBN: 978-1625491756, 96 pages, $18