Little Disruptions, Poems by Biljana Obradović
The disruptions of these poems are hardly little: they challenge our perceptions of history, culture, and place, in the poet's careful, textured depictions.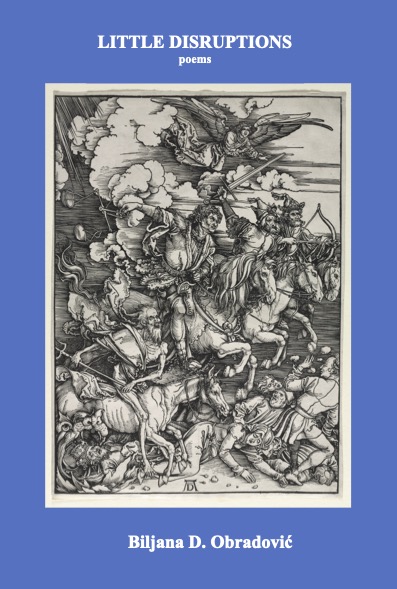 Sample Poems by Biljana Obradović'
"Biljana Obradović's poems travel - through art, history and war - from Provance to the Balkans, India, the French Quarter of New Orleans, Italy and elsewhere asking questions all the way. From suffering through death to the birth of a child her poems bear witness - shocking and true - to life. 'I can't go on like this,' she says and turns the line into a villanelle. 'Don't lose hope,' she writes. 'Can't go wrong. Can't go wrong.' 'A new strength arises in me.' Read Little Disruptions and learn about irony, passion, and great poetry."-Hilda Raz, author of Letter From A Place I've Never Been: New and Collected Poems, 1986-2020 (2021)
"The opening of Little Disruptions, referring to van Gogh's Haystacks in Provence, pose the questions, 'What difference does it make/ whether the haystacks are in Provence/ or Kosovo? The pampas or Nebraska?' Obradović responds, as van Gogh did, by asserting through her poems that the difference is in the artist's vision. This poet's view of the world is at once loving and astringent, supportive and critical, satisfied and frustrated, proximal and distal. Obradović's voice, reflected through her experience and craft, is honest, complicated, and believably profound. The same has surely been said of van Gogh."- Tim Skeen, author of Reward (2017)
"Little Disruptions is an expansive book, ironically titled as these poems are far from small in all to which they bear witness. Biljana Obradović's detailed narrative poems inhabit the poet's various lives and 'homes,' spanning locales from Belgrade, to Mumbai, to New Orleans. With an understated tone that renders the recounted losses more piercing, Obradovic threads personal elegies-for her native home, for her mother who died early of breast cancer, and more-to her public mourning of ethnic and racial violence that has ravaged Europe and the US, her adopted country. With an unflinching gaze, in poem after poem rooted in time and place yet governed by timeless concerns, the poet faces what we 'can't live with' but must live with."- Shara McCallum, author of No Ruined Stone (2021)
Biljana D. Obradović , a Serbian-American poet, critic, editor, translator and Professor of English, Xavier University of Louisiana, in New Orleans, has published four collections of poems, most recently
Incognito
(WordTech Press, 2017), translations: Milanović, Gery, Kunitz, de Rachewiltz, Weigl, Osundare, most recently Zvonko Karanović's
Sleepwalkers on a Picnic
(Dialogos Press, 2020). She edited two anthologies or poems, most recently,
Cat Painters: An Anthology of Contemporary Serbian Poetry
(New Orleans: Dialogos Press, 2016), and a collection of essays by the late poet, Philip Dacey, entitled
Heavenly Muse: Essays on Poetry
(Dialogos Press, 2020).