Incognito, Poems by Biljana D. Obradovic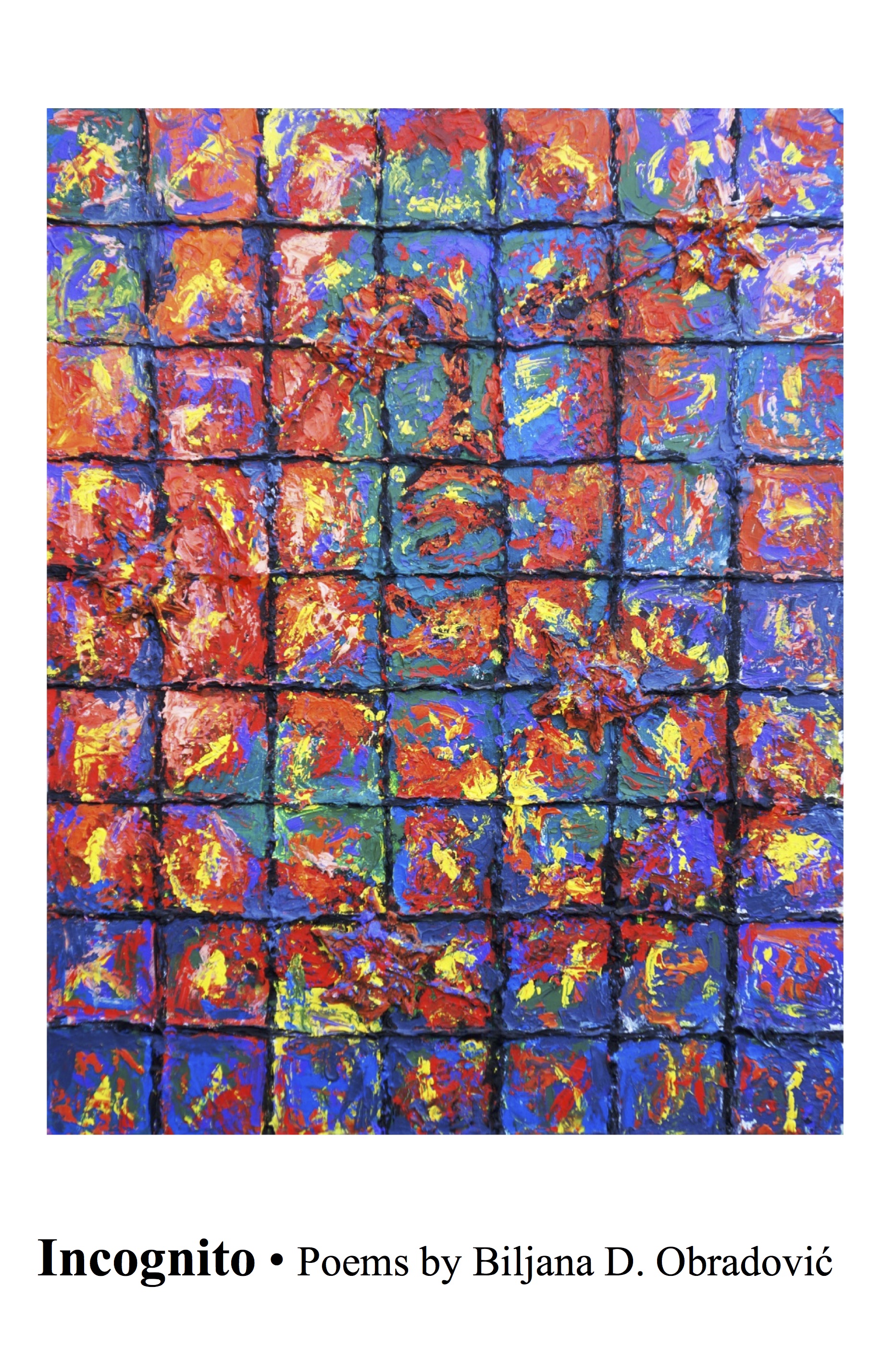 In Incognito, Biljana D. Obradovic is a cosmopolitan traveler through the world, her observant eye missing no intersections between experience and the history in which it lives.
Sample Poems by Biljana D. Obradovic
"Incognito is a tour du monde. Biljana D. Obradovic takes the reader through landscapes shaped by the dissolution of the communist world in which she grew up, and the at times painful, at times joyful birth of an uncertain new world. But Incognito is not so much a quest to find a home for herself and her family as it is an attempt to build a home line by line, stanza by stanza. The poems themselves become 'the missing planks' her landlord refuses to replace. The result is her peripatetic vision of our lovely and imperfect world."—Tim Skeen
"Few books of poetry are as steeped in history or have the geographical reach as Incognito, not surprisingly, since its author is an accomplished multi-lingual translator and Serbian-American who moved to the U. S. shortly before the outbreak of the Bosnian war. A global citizen who's also lived in Greece and India, Obradovic investigates patriotism and nationalism while never losing sight of the personal—family, motherhood, friendship, quotidian events—and various arts—Dante, Confucius, Joseph Brodsky, and Gregory Peck are but a few of the book's dramatis personae—as well as much more. Nor is the poet interested in deconstructing language; as an experienced translator, she prioritizes communication, serving her material faithfully, with clarity and directness, and in that regard is as American as William Carlos Williams. While loss and grief permeate this book, including Katrina's devastation of New Orleans, the poet's current home, she always finds time to celebrate—'Let's turn the plough and create a new row,' one poem says, and the final poem concludes: 'Be set free.' Read Incognito—the title suggests the many roles of parent, wife, teacher, translator, witness to history, and poet—and be set free not onto a comfortable literary cruise but into the rough-and-tumble of a rich life lived in motion and captured in line after line of this engrossing book."—Philip Dacey
"Incognito, by Biljana D. Obradovic, offers a voice bearing witness to the ordinary moments of life as deliberately as to the largest political or existential matters. Set in a wide number of places, including the US, Serbia, Italy, India, and China, these poems address an equally wide number of subjects: elegies for parents and friends, poems focused on Hurricane Katrina and its aftermath for the poet and her family, poems centred on the immigrant experience, and portraits of love, motherhood, and friendship, among other themes. Whether writing in traditional forms such as the sestina, a favourite of the poet, or in a looser free verse, narrative style, Incognito shares with us the details of a life experienced and examined, with fullness and openness."—Shara McCallum
"There is a kind of fierce honesty that resonates throughout these poems that instantly distinguishes them from much of our recent poetry. Unburdened by artifacts that linger only briefly on the surfaces, the poet here guides us with care and cleverness to the deepest levels of consciousness where nothing short of the remarkable is revealed about the fragility of our lives and our enduring devotion to mystery. It's not often enough that we come across poetry that instructs and delights as this poetry does; there is so much to celebrate in Incognito."—Bruce Weigl
"Incognito is a poignant and visceral volume that haunts the imagination with its multilayered nostalgias for a lost home, with moments of fierce lyricism, with Balkan fragrances, breathtaking evocations of unhealed losses and an equally fierce opening towards far away worlds from China to Salonica to Venice. Obradovic's poetry transports you all while alluring you to stare at the chasms between worlds, cultures and geographies, and into the unfathomable universe of an immigrant's yearnings and stolen joys. A joy to read!—-Domnica Radulescu
Biljana D. Obradovic, a Serbian-American poet, translator and critic who has lived in Yugoslavia, Greece, and India besides the U.S., is Professor of English and Department Head at Xavier University of Louisiana, in New Orleans. She has three previous collections of poems, Frozen Embraces (1997), Le Riche Monde (1999), and Little Disruptions (2012), and six books of translations (J. Gery, S. Kunitz, P. de Rachewiltz, B. Weigl, N. Osundare, and B. Milanovic). She is co-editor with Dubravka Djuric of Cat Painters: An Anthology of Contemporary Serbian Poetry from the Sixties to the Present (New Orleans: Dialogos Press, 2016).
ISBN: 978-1625492135, 112 pages