Reviewing the Skull, Poems by Judy Rowe Michaels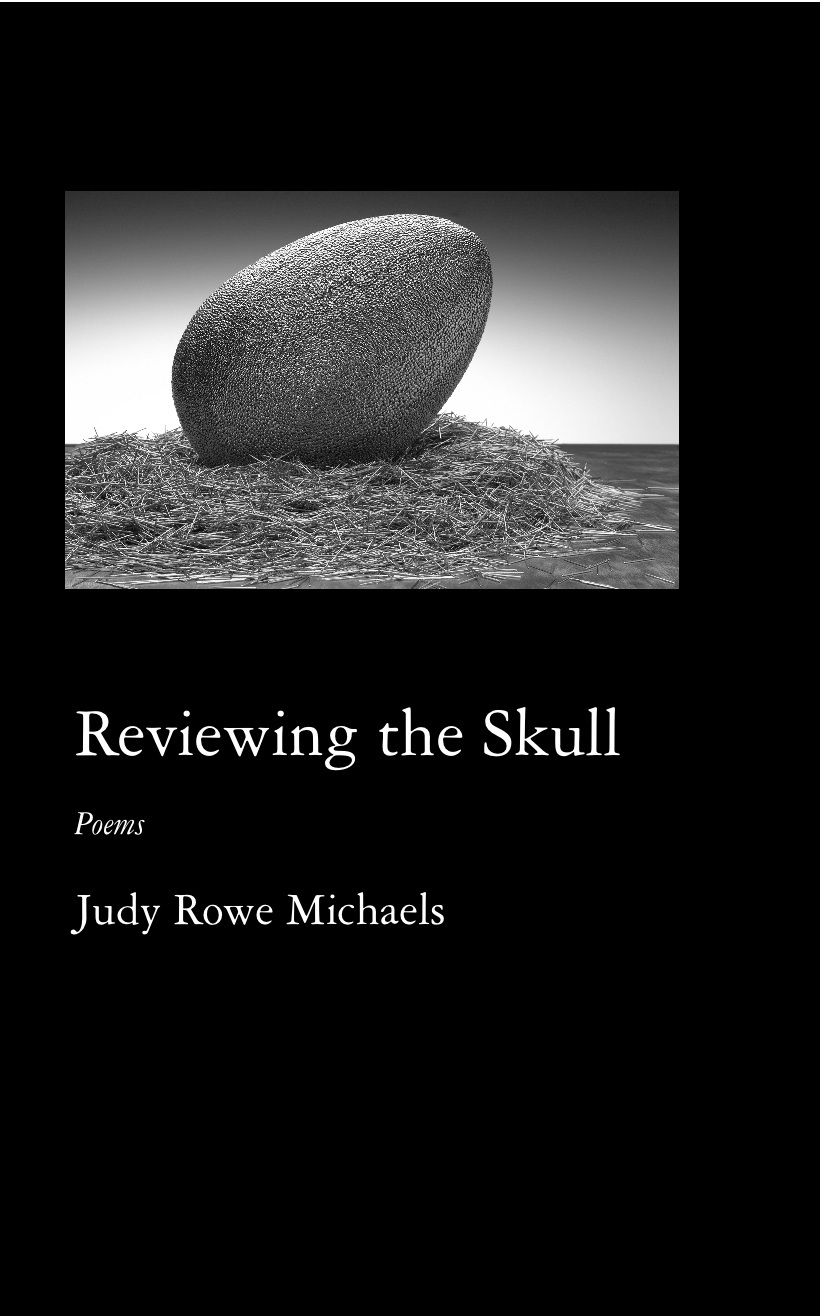 Confronting cancer, mortality, the limits of the body: Judy Rowe Michaels' Reviewing the Skull is a proper introduction to these grim topics, and a proper introduction to transcending them.
Sample Poems by Judy Rowe Michaels
"The shadow of death may be a blessing if it leads a person to step beyond the bland expectancies of habit and to see into the beautiful strangeness of being alive. Judy Rowe Michaels has the gift of that sight. Whether she is writing about quilts or tumors, Agnes Martin or morphine, she is able to conjure up the vision of an outsider who is at one with the mortal odds. These poems emanate from the final interior of poetry—a heart that won't give up or back down."—Baron Wormser
"These poems, so graceful, direct, and attentive, return us to essential things: What does it mean to live in a mortal body?  How might we praise things that are passing? How can we accept with grace that which cannot be changed?  Michaels' poems are as brave as they are beautiful, poised so delicately, as they are, between the said and the unsaid."—Richard McCann, author of Mother of Sorrows
Judy Rowe Michaels is poet in residence, English teacher, and coordinator of the Lively Arts program at Princeton Day School and a poet in the schools for the Geraldine R. Dodge Foundation. Her first poetry collection, The Forest of Wild Hands, was published by University Press of Florida, and her poems have appeared in such journals as Poetry, Poetry Northwest, The Women's Review of Books, Columbia, English Journal, Nimrod International Journal, CALYX, River Styx, and Kalliope. She has won two poetry fellowships from the New Jersey State Council on the Arts and is a member of a central New Jersey critique and performance group, Cool Women. Author of two books on teaching writing to high school students, she presents regularly at conferences. She earned her B.A. with honors in English from Middlebury College and her Ph.D. from Bryn Mawr. A five-time ovarian cancer patient, she participates in the program Survivors Speaking to Students, which is in sixty medical schools around the country and is sponsored by the Ovarian Cancer National Alliance. Having grown up in New England, she now lives with her husband, Bill, and Maine Coon Cat, Galway, on a ridge of the Sourland Mountains in New Jersey but also shares a summer cabin in Maine with her sister and brothers.
ISBN 978-1934999790, 84 pages