World of Hard Use, Poems by Faye George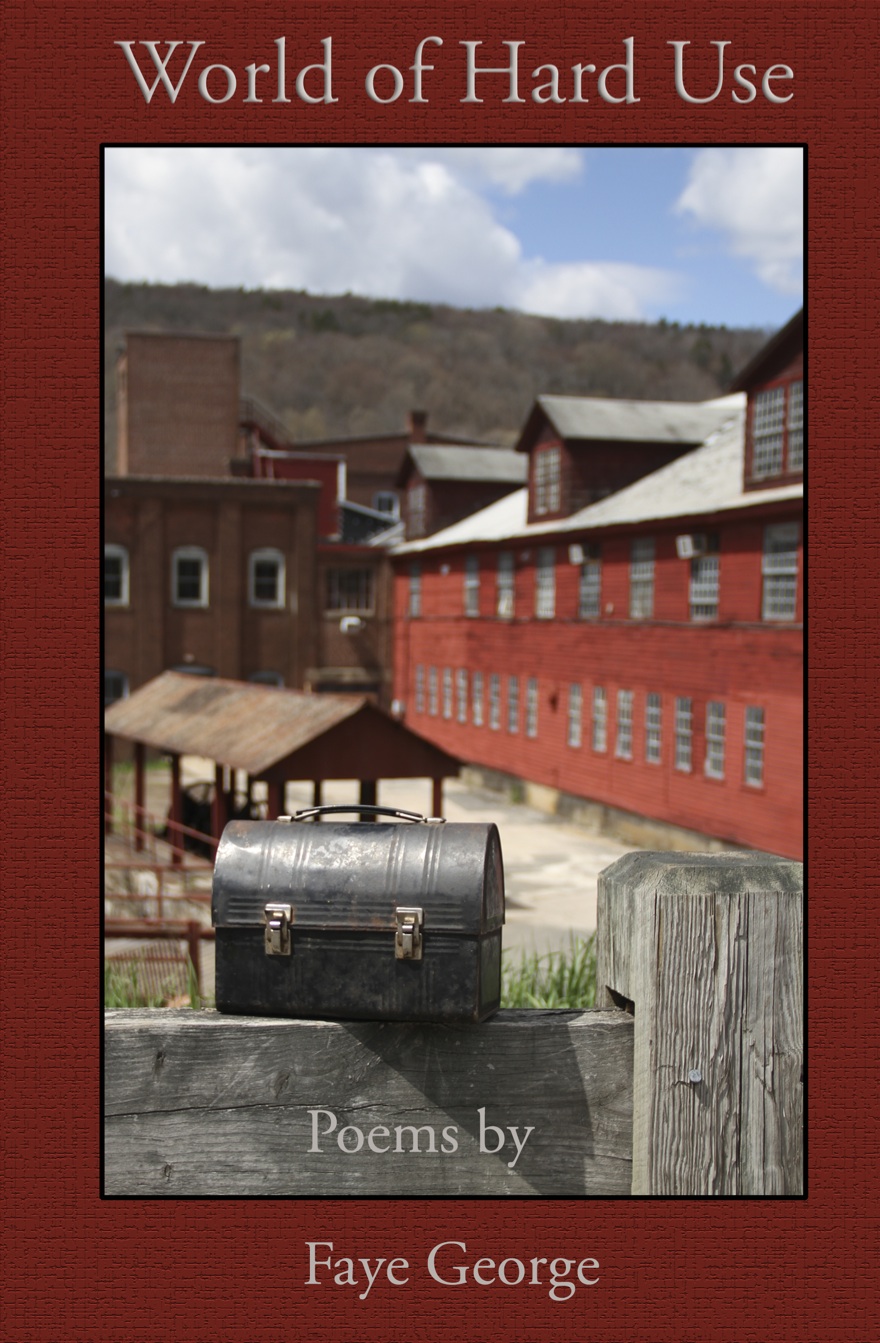 And the Lord God said, "By the sweat of thy face shalt thou eat bread. . . ." Gen. 4:19
World of Hard Use is about earning that bread and the dignity of our labors. These poems are about work and workers, their ambitions and frustrations: blue, white, and pink collar workers; construction workers, factory workers, workers in offices, academies, kitchens. . . . They are about the employed and the unemployed; the exploited, and the marginalized. They are about hope and despair, resilience and endurance. -- Poems of doers and dreamers, artists and poets, of creativity and aspiration, success and failure. Poems about life, how we live our lives and strive to make them meaningful.
"Faye George's work poems work for me. And pay me too - a labor exchange hard to beat. The pay-out is language that rotates from spare to musical, powered by gray, probing moods from wariness to weariness. Together, the poems feel like historical records, of the poet's life as worker and as child witness to the working lives preceding her own. Readers may rejoin an era, characters, and landscapes they knew, or if younger, may grab a glimpse of the working soul that might inform their own. No matter what, I suspect the same question will surface: human labor at what costs? Always worth asking." --Scott Withiam, Arson & Prophets
"In World of Hard Use, Faye George lives up to her reputation for fine writing established over years. The subject matter is work, all modes of it; America's dream of hard work lifting one through the social classes. Her stretch is exhaustive and ambitious, a lived history of labor that begins with the prehistoric tool of 'Artifact' and moves back and forth through time. Here one finds 'the stumbling throng of us . . . hankering after a bigger piece of being. . . .' So named, so earned. So won."--Barbara Helfgott Hyett, Rift, The Tracks We Leave
"Faye George confers radiant attention to both the pride and indignities of labor. Her lyrical explorations of workers, work places, the 'ordinary grace' of industry and the tools of its trades, offer crucial reckoning with the physical and intellectual hardship of our world of tasks. World of Hard Use translates the sanctity, solace and suffering of the working world into poetic prayer: Labora et Ora. This powerful work constitutes forceful craft in its own right."-- Jon Curley, New Shadows, Angles of Innocence
Faye George is the author of four previous poetry collections, including the verse monologue sequence Voices of King Philip's War (WordTech Editions, 2013), which dramatizes the devastating seventeenth-century conflict between the English colonists and the Woodland tribes of southern New England.
Her lyric poetry includes Maerchenhaft: Like a Fairy Tale (Earthwinds Editions, 2008), Back Roads (Rock Village Publishing, 2003), and A Wound On Stone, winner of the 2001 Perugia Press Prize. Chapbooks Naming The Place: The Weymouth Poems and Only The Words were published in 1996 and 1995.
George's poems have appeared in numerous distinguished print and online publications, including The Paris Review; Poetry; The Poetry Anthology, 1912-2002; Poetry Daily; Anthology of Magazine Verse & Yearbook of American Poetry; Agni online; The Cultural Society; The Endicott Journal of Mythic Arts.
She has received the Arizona Poetry Society's Memorial Award; the New England Poetry Club's Gretchen Warren Award, Erika Mumford Prize, and the Sheila Motton Book Prize for Voices of King Philip's War (WordTech Editions, 2013).
Faye George has worked as copywriter, public relations representative, and academic secretary. She is now retired and living in Bridgewater, MA.
ISBN 978-1625491145, 118 pages