An Accident of Blood, Poems by Charles W. Brice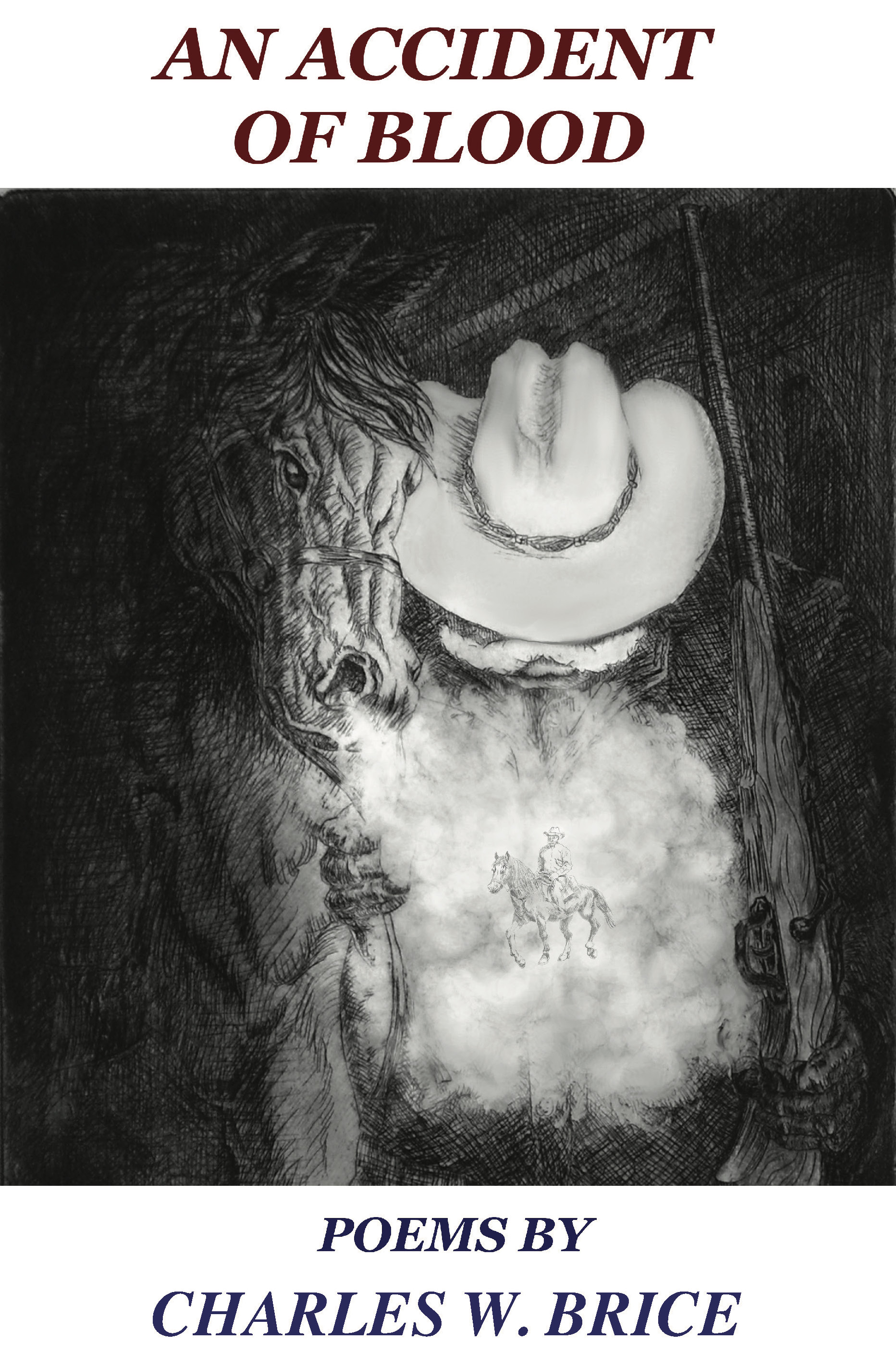 Intense memories, pithy observations, and moments of lyric grace-the happy and sad accidents of experience-take sharp form in the lines of Charlie Brice's new collection.
"The poems in Charles Brice's new book, An Accident of Blood, are engaging narratives, packed with details. These are tales set in the West, slices of life in a dysfunctional family (aren't they all), stories of Catholic school: 'Three hundred pounds if she was an ounce, / Sister Hendrik moved like a battleship. / Her black veil barely concealed turrets / for battleship guns, her white Dominican habit / bow and stern of a Wyoming icebreaker.' Brice is also not afraid to take on our current political situation, the great divide, in poem after poem. A book for our times. There's much to like in this collection."-Barbara Crooker, author ofThe Book of Kells (Cascade Books, 2018) and Some Glad Morning (University of Pittsburgh Poetry Press, 2019).
"Charlie Brice's latest collection rides through the dust of his Wyoming childhood to the present, balancing pain, joy, hope and humor. His crystal memory ranges through Nixon and Vietnam, through an alcoholic father and a fierce mother, through psychology, Catholicism, poetry and funk, through his coming-of-age scenes in 1960s America, before turning its lens on, among many other topics, today's America-its tweeting President, its new scenes of racism and greed, its school shootings. What is constant on this cinematic journey is Brice's attention to experience pumped through with the good music and blood of his poetry-which is no accident. You're in good hands with this poet. Get ready for a good trip."-Robert Fanning, Central Michigan University professor and author ofSeverance, Our Sudden Museum, American Prophet, and The Seed Thieves
"So far what hasn't killed Charlie Brice has created the poems in his harrowing and wryly satirical collection An Accident of Blood. Early on Brice writes 'there was no place for me, / no place for me on this earth.' However, instead of living marginalized, Brice places himself within the most anguishing of experiences. A conscientious objector during the Viet Nam War, he has been a conscientious objector ever since. Whether trying to help those crying out as they die alone in a hospital; raging at the un-civilizing of the socio-political world; or in satirical wit calling out every hypocrite in the land, he confronts whatever oppresses. At the heart of this urgent voice lies compassion, empathy, love, sympathy, an overwhelming anguish for goodness. Knowing of 'the grenades/ they hid in their book bags/ before they walked to school,' Brice's closing line of the poem 'Car Wreck on Foyer Avenue' reads, 'Two analysts. Thousands of dollars. And they never got the metaphor.' He trusts you will."-Jack Ridl, author of Practicing to Walk Like a Heron, recipient of the National Gold Medal Book of the Year for Poetry from ForeWord Reviews/IndieFab. His latest collection is Saint Peter and the Goldfinch.
Charles W. Brice is a retired psychoanalyst and is the author of Flashcuts Out of Chaos (2016) and Mnemosyne's Hand (2018), both from WordTech Editions. His poetry has been nominated for the Best of Net anthology and twice for a Pushcart Prize and has appeared in over eighty publications including The Atlanta Review, The Main Street Rag, Chiron Review, Fifth Wednesday Journal, The Sunlight Press, The Paterson Literary Review , and the Muddy River Poetry Review.
ISBN: 978-1625493101, 120 pages, $20.00