Trill & Mordent, Poems by Luisa A. Igloria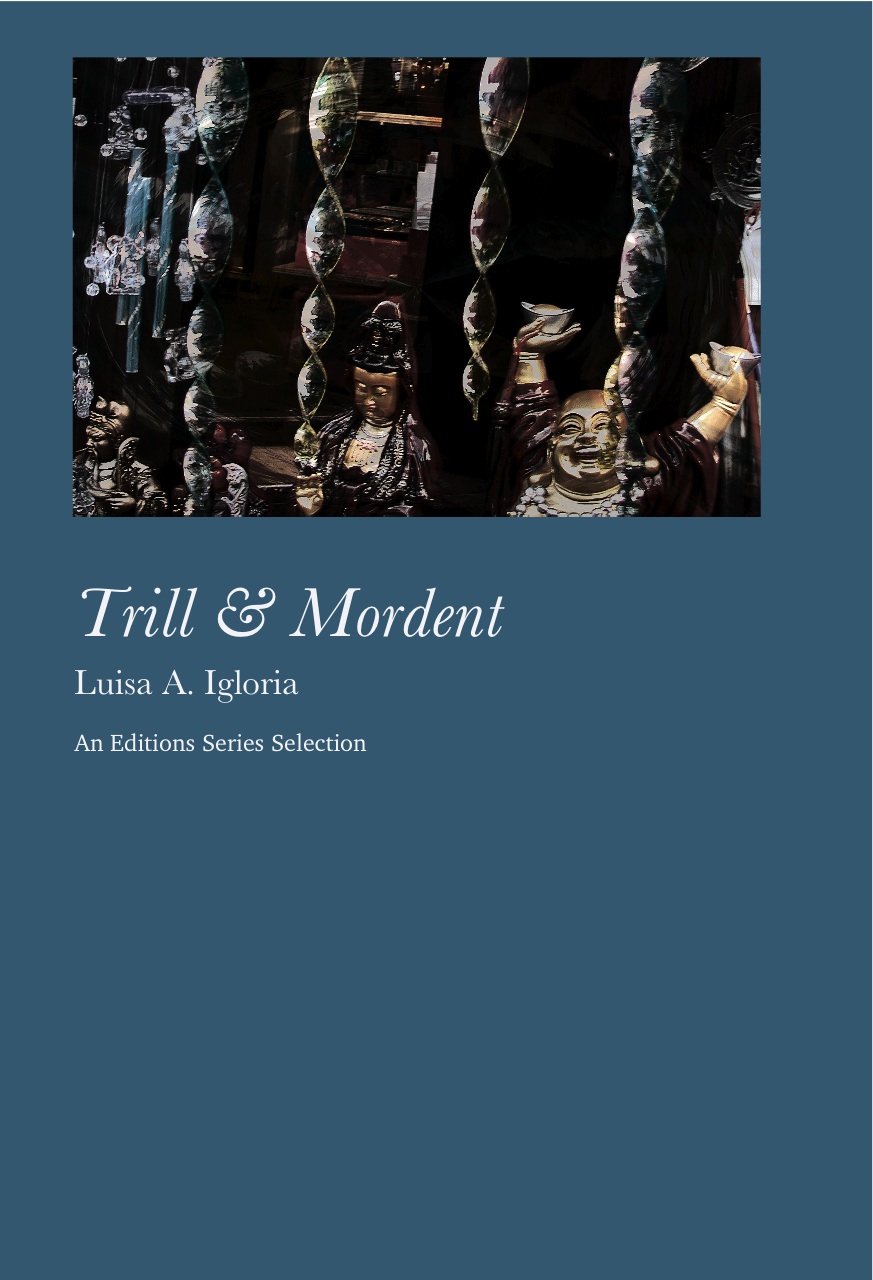 The lush and humid poems of Luisa Igloria's Trill & Mordent are a feast for the ear and the eye. Bursts of color and music punctuate Igloria's dense, crafted lines, inviting the reader into Filipina life, a world at once strange and yet familiar to an American reader, opening wider perspectives into the commonalities and differences between America and the country it has so deeply influenced over the past century, the Philippines.
Sample Poems by Luisa A. Igloria

"Encountering the poems in Trill & Mordent, one is blessed with a Lucullan banquet of apt images and a feast of savory sentences. Luisa Igloria offers 'the face that floats beneath the water of itself' and trains the 'tongue to lexicon of ruffle and flounce.' These poems will linger in the reader's mouth."—Nick Carbo

"Luisa Igloria's new collection reflects a generous and sincere poet's meditations on daily news charged with 'the blunt wick of fear.' Her poems honor history and the private stories we keep in the body's memory. Rhythmically graceful, these poems nourish the soul."—Eugene Gloria

"Trill & Mordent is as original and evocative as its title from page one to its end. Filled with life, sensual, sensuous, this is a wonderful book by a young poet with undeniable gifts."—Thomas Lux

"In her new book, Trill & Mordent, Luisa Igloria sings with the cadence of a beautiful songbird. Her poems are elegant and gorgeous; her landscapes verdant and vast. The storyteller in these poems cannot help but bring forth a devastating richness: delicious aromas of home-cooked meals, strong family ties, enchantment from a far-away childhood. This is the poet's best work to date, and I have to say I savored every word, every page as if an angel were singing it to me."—Virgil Suarez

Luisa A. Igloria has published five books under the name Maria Luisa Aguilar Carino: Cordillera Tales (New Day,1990), Cartography (Anvil, 1992), Encanto (Anvil, 1994), In the Garden of the Three Islands (Moyer Bell/Asphodel, 1995), and Blood Sacrifice (University of the Philippines Press, 1997); she is also the author of Songs for the Beginning of the Millennium (De La Salle University Press, 1999). She is the editor of the new anthology Not Home, But Here: Writing from the Filipino Diaspora (Anvil, 2003).

Her work has appeared in numerous national and international journals, including Poetry, Crab Orchard Review, Smartish Pace, Blue Mesa Review, Indiana Review, TriQuarterly, Columbia, Hayden's Ferry Review, The Asian Pacific American Journal, Span, Ruptures, Bomb, and Black Warrior Review. She has received two Pushcart Prize nominations, as well as fellowships to the Summer Literary Seminars in St. Petersburg, Russia, and to Hawthornden Castle in Scotland.

She is currently associate professor of English at Old Dominion University.

ISBN 1932339949, 92 pages