Sassing, Poems by Karen Head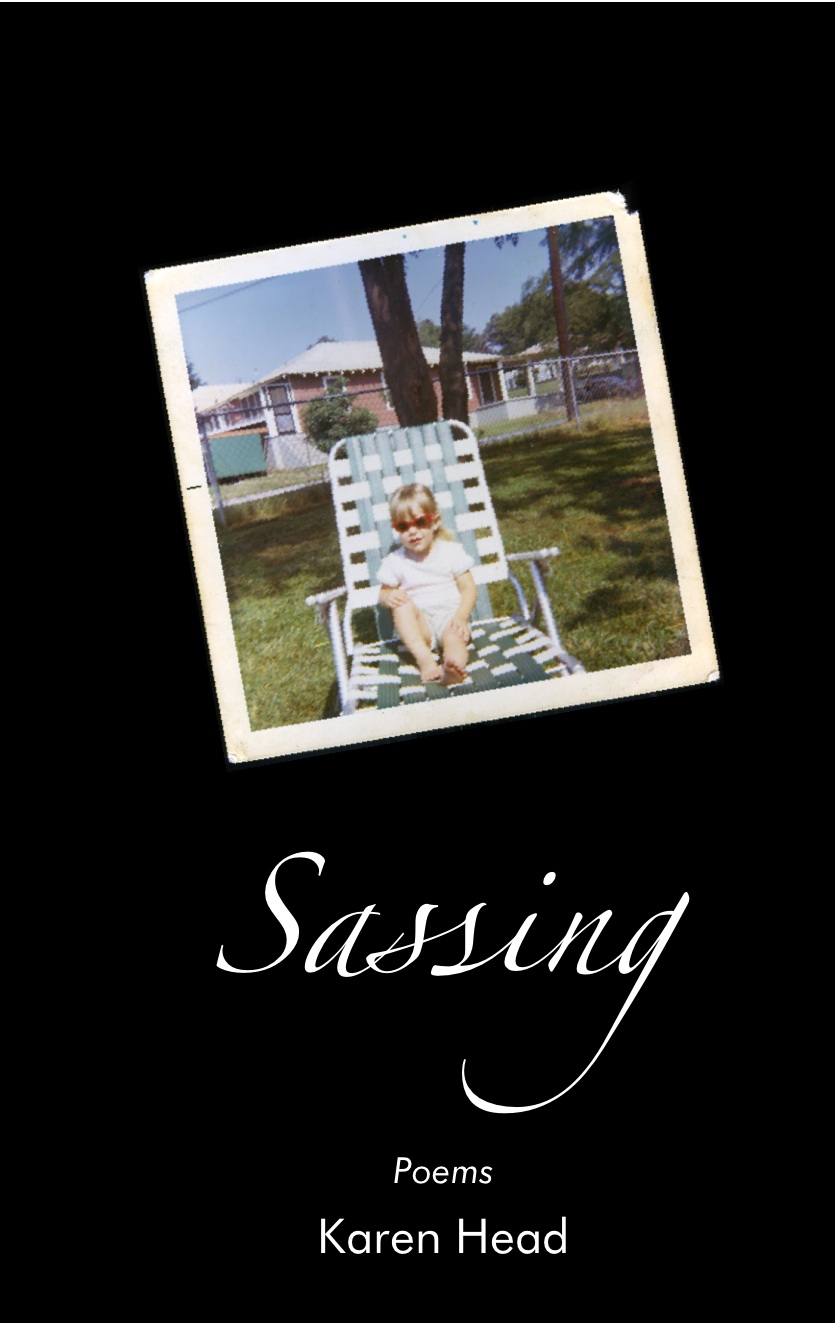 The narratives of Karen Head's Sassing are mournful but defiant tales, seeking a place of repose "somewhere between/the smoldering ruins of Atlanta/and a base near the Berlin Wall." Head's poems find that elusive place in their hard-edged music.
"Karen Head's Sassing creates a perfect balance of lyric and narrative impulses. Girls born of Southern mothers will shudder with recognition at the earlier generation's insistence on maintaining appearances. Survivors of domestic violence will cheer the independent spirit that emerges here. Any reader who feels sustained by song and narrative will admire the composure, wit, and delicious detail in this autobiography not just of a poet, but also of a place and time."—Marilyn Kallet
"What a pleasure it is to have this new book from Karen Head, whose distinctive voice offers us a rich counterpoint to Southern male voices such as James Dickey and David Bottoms. These poems enter the experiences of women and compel us to feel the textures of their lives. This is work that is strong and true. It shares with us a 'prayer for what cannot be destroyed.'"—Judson Mitcham
"Sassing is a vibrant collection filled with vivid sound bites of Southern life. Karen Head writes with precision, poignancy and power, exploring an energetic mosaic of family history, memories of folks living on the knife-edge of eccentricity, the rage of the rebellious child and the inevitability of heartache that follows. Even if you've never been within a thousand miles of Georgia, you'll recognize the characters that people her poetry, know the emotions she so eloquently describes." —Agnes Meadow
Karen Head is the author of My Paris Year (All Nations Press, 2009) and Shadow Boxes (All Nations Press, 2003). Her poetry appears, or is forthcoming, in a number of national and international journals and anthologies, and has been invited to present her work in the U.S. and Europe. As a scholar of contemporary American poetry, she has begun to explore the connections between traditional text-based poetry and digitally-enhanced poetry, an exploration that involves her in a number of creative projects being conducted in the Wesley Center for New Media at Georgia Tech. Her first digital poetry project, Poetic Rub, was featured at the E-Poetry 2007 festival in Paris. Head is the Graduate Communication Coordinator and Special Advisor to the Writing and Communication Program at Georgia Tech. Additionally she serves on the Poetry Atlanta Board, a non-profit organization dedicated to supporting poets and promoting poetry in the Atlanta area. She founded and is developing The Peachtree Review as a venue for both traditional and digital poetry.
ISBN 978-1934999592, 104 pages