Breaking, Poems by Brittney Corrigan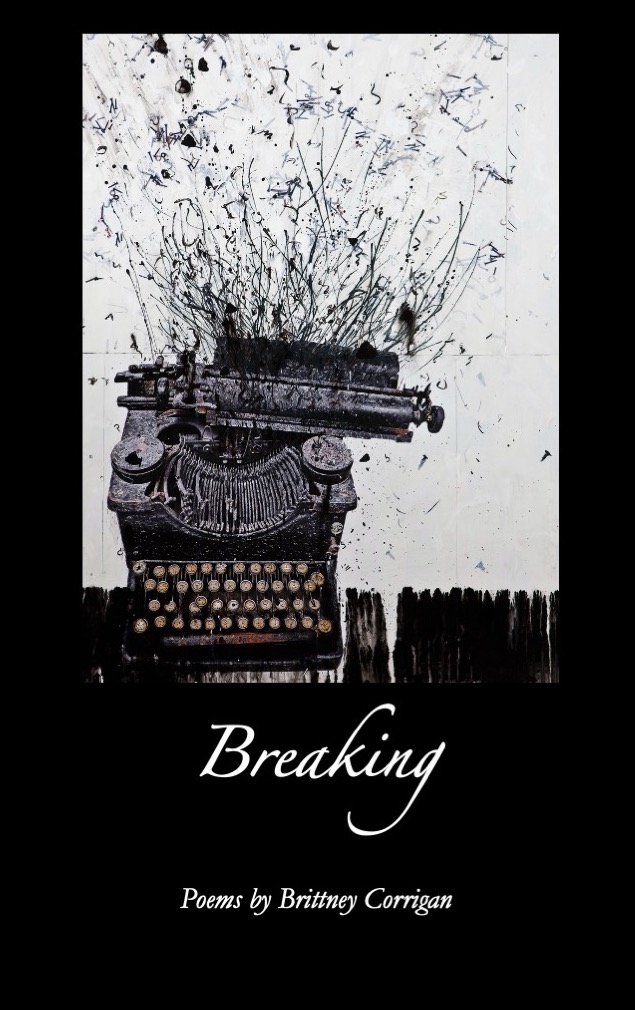 The poems in Brittney Corrigan's Breaking respond to stories in the news over the past several years. Many of the poems take on issues that are difficult to grapple with, including gun violence, suicide bombings, the current political state, climate change, and natural disasters. The collection is meant to be emotionally challenging but, ultimately, hopeful.
Sample Poems by Brittney Corrigan
"Even the angels grieve in Brittney Corrigan's devastating collection of wounds, losses, and the kinds of courage needed to face such traumas. In Breaking, 'all the wide world is unhinged'-elections and constellations, sullied innocence and self-righteous bombers. In these raw yet accessible poems, all thrash, ravage, howl. Walls are built and walls collapse. Shot through with the dark realities of human tragedies, Corrigan paints intimate portraits, putting real faces to such overpowering existential fears. Yet, despite the ugliness of our nature, she reminds us how 'our bodies cleave us together.' I dare anyone to read these poems and not be shaken and moved."-John Sibley Williams
"Brittney Corrigan's Breaking is always at the cliff's edge, always watching the headlines brighten the bottom of the screen, asking What if it all keeps happening? Inspired by real events, these poems give pathos to the otherwise objective facts of news releases. Corrigan always incorporates what is known and reported, but these poems are ultimately a springboard to the 'what if' and consider all the possible outcomes and the speculative horrors that the news does not and cannot cover. However, it is not all the worst of the world in these poems; there are historic astronauts and sly bobcats, bird sightings and butterflies defying borders. Here, there is great heart, great courage, and a will to understand the fullest stories of the people, animals, and stars that make the latest breaking news."-Traci Brimhall
"The poems in Brittney Corrigan's Breaking do the opposite-they mend, they heal, they build connections between events in the way only a poet can do. A housecat catching a bird becomes a prelude to an act of terrorism, the 2017 Presidential Inauguration becomes a study of augury, a mother orca carrying her dead calf becomes a metaphor for families separated at the border. Corrigan understands that even though 'all the wide world is unhinged,' there is still hope. Corrigan's poems give us the strength to work the 'levers on which our joyous human weights hinge.'" -Shaindel Beers
"This is a book with both palms open-one in offering and the other in supplication. Each poem is inspired by what we call 'the news,' but those events-some of them familiar and some of them not-are set in a multiverse full of mothers and babies, yes, but also teeming with claws and fins and snouts and oh-so-many feathers. It is a book that asks us to turn our backs to the screen and tip our face to the sky. Because, in this world-like a blessing-even Inauguration Day has wings."-Wendy Willis
Brittney Corrigan is the author of the poetry collections Navigation (The Habit of Rainy Nights Press), 40 Weeks (Finishing Line Press), and Daughters (Airlie Press). She grew up in Colorado and currently resides in Portland, Oregon, where she works for her alma mater, Reed College. For more information, visit http://brittneycorrigan.com/.
ISBN: 978-1625493736, 48 pages